The Industry Lawyer - Meet Innovation's Best Friend: Chicago Patent Lawyer, Zareefa Flener
By Zareefa B. Flener, Posted July 27, 2020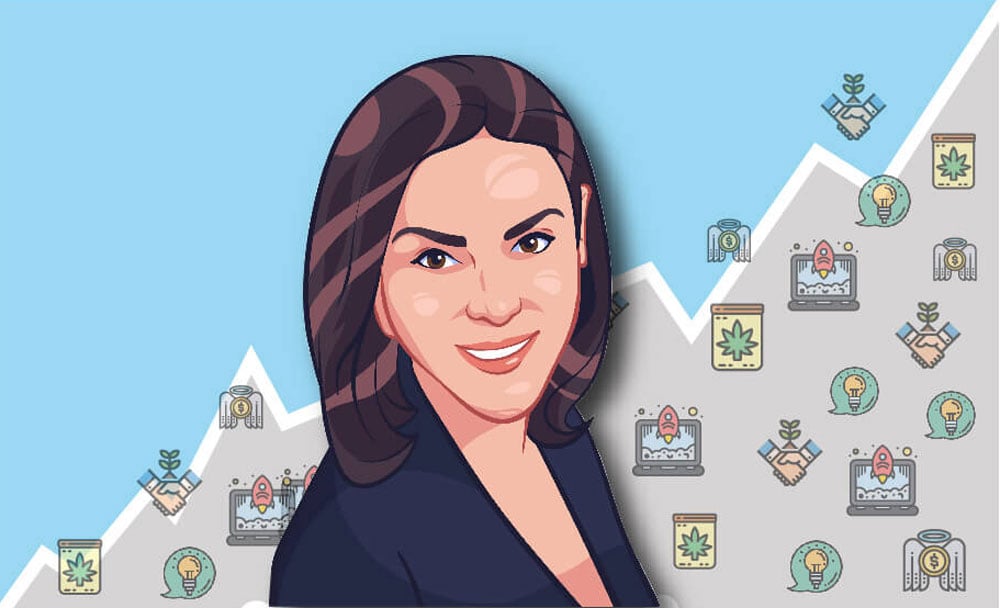 "It's a lot of fun and you have to learn really fast."
Those are the words of Zareefa Flener, a patent lawyer in Chicago, who six years ago burst into the cannabis industry as a much-needed legal resource for inventors and entrepreneurs looking to protect their groundbreaking ideas.
With a uniquely impressive background in biology, Flener combines 10 years of hands-on scientific laboratory experience with keen business acumen and deep legal understanding.
She continues to push the limits of emerging industry and law. When you learn about her professional background it becomes clear that Flener loves a challenge and that's just what she found in the cannabis industry.
"Despite still being classified as a Schedule I controlled substance, federal law in the United States does not prohibit the patenting of illegal substances." Flener says.
So whether it be a novel cultivation method in need of a patent or an entrepreneur registering a new brand name in a new state, Flener approaches the industry as a scientist/entrepreneur would, carefully weighing client's opportunity and cost, with the end-goal of her clients eventually dominating their space and owning the 'big idea.'
Her firm, FLIP (Flener IP & Business Law), a WBE-certified woman-owned and minority-owned business, works globally with clients on patents and branding domestically and globally, in all 50 states, Europe, Canada, China and other regions world-wide.
Flener is not alone in her quest to bring financial gain to her clients. She has built out a team of 13 professionals at her firm in Chicago. The FLIP team's focus lies in the arena of intellectual property protection for companies operating in cannabis and several other emerging industries including electronics and stem cell.
Being well published herself, in the field of HIV pathology in the American Journal of Pathology, Clinical Immunology, and the Journal of Clinical Investigation, helps Flener understand her clients at a level much deeper than the average patent lawyer can.
I gave Zareefa a call to find out about her firm and it's role in the global landscape of new ides and inventions. Below is the transcipt:
---
(IL): Zareefa, thanks for your time today. I know that you have a unique background in biology and you're also the founder of an expanding IP law firm in Chicago. Can you describe to us what your legal specialties are?
(ZF): I am a Patent attorney, so my background is in patent law, but more specifically I'm a biotech patent law attorney. I provide counseling and strategy to businesses.
I started on my own and now we have 13 professionals focusing on Intellectual property prosecution, IP registration and IP maintenance, and copyright. I started working with my cannabis clients 6 years ago, who are very private and they kind of dictated that I must handle their corporate transactional work as well. So I brought on a small corporate law department which has created a lot of synergy between IP and corporate law work.
Now we build companies from the bottom up, incorporate them and are by their side working with them up through to the mergers and acquisitions, doing everything from licensing to IP. My firm has become a one -stop shop for small to mid-size companies.
(IL): You mentioned that six years ago you began working in the cannabis industry, consulting companies in that space. Can you elaborate a bit on your work as an IP lawyer in the cannabis industry?
(ZF): The cannabis side of the thing has been a lot of fun.
We work with companies in the cannabis space and ancillary businesses, helping to register, grow and maintain their intellectual property portfolios and also assist with changing corporate needs in this growing space domestically, and even internationally.
We work with companies that invent and manufacture devices like vaping products. We help edibles companies protect compositions and packaging designs. We counsel companies as they merge, acquire new brands, products and companies, and achieve other exciting and innovative company goals.
We add value and help companies gain value.
(IL): In which geographic areas do you attract clients from?
(ZF): Fortunately, being a U.S. PTO registered patent attorney means that our patent work is federal and so our clients can come from any state or region.
On the trademark side, our clients can be anywhere in the USA as well. We have filed at the U.S. PTO Principal Register and also, as a result of the current state of cannabis law in the U.S., we have the fortune of having filed in every state in the United States. We have hundreds of trademarks on our docket.
Our strategic partnerships world-wide, honed over decades, allow us to pass on lower costs to our clients' international endeavors, much needed in the newer cannabis industry, which operates often on a cash basis.
(IL): With Cannabis being a Schedule 1 controlled substance at the federal level, how does that affect the industry?
(ZF): The Fed is going to catch up because the cannabis industry isn't going to stop. They're going to have to get it right eventually. Being Schedule 1 makes it really difficult to maneuver across markets and across different regions.
The inconsistency of regulations creates specific challenges and there will be a lot of issues, for instance in branding.
Let's say your new company name is "Cloud" and you manufacture CBD, oil, or vaping devices. You can't get the trademark at the federal level, so you get it in Illinois. But then you eventually come to find out that in California someone has a company also called "Cloud."
So, when the fed opens things up, there will be a race for branding. When it opens up there will be a lot of competition and it will be a lot of fun.
(IL): Intellectual Property in cannabis is an interesting topic when it comes to strains and IP for the actual plants. What are your thoughts on that?
(ZF): Many of these strains are not new.
I mean, where did they come from? Even proving that this is a new strain is a huge obstacle. The cost of proving what you need to prove would be overwhelmingly expensive for most cannabis companies.
(IL): How have you managed to increase the size of your team's footprint in these emerging industries, like cannabis?
(ZF): It happened naturally for us. For example, a friend of a friend had some questions about his company's IP. His company kept growing and one company turned into many, and suddenly they had five companies in their portfolio. Relationships like that just build and build and it's a lot of fun, and you have to learn really fast.
I think the lawyers involved in cannabis are nimble because the laws change so fast. There used to be only a small group of us, but the numbers are increasing daily. Personally, I think the more the merrier as this space is not congested yet.
(IL): Advice to inventors or entrepreneurs breaking into the industry?
(ZF): From an IP perspective, make sure that you do your due diligence, and I mean do it before putting your brand or invention in the market. Do it first so you don't get dinged later on, and end up paying ten times as much.
View the full article on The Industry Lawyer
---